The Business of Farming is now open for enrollment.
The next program runs from 3 Feb to 27 March 2020 with live events in both Perth and Esperance
Want to know more? Click here
Share your contact details and schedule a time for Peter Newman to call you
Progress your farming career
This program will help you take the next step in your farming career, from worker to manager and eventually owner of the farm business, giving you and your family the confidence that you're well prepared to take the next step in your farming career

Farmers and agribusiness have many opportunities to attend events focused on grain and livestock production but they have very limited opportunities to learn about the business of farming.
To help fill this gap, we at Planfarm have developed a program that will help you become a better farmer or agribusiness representative by gaining a greater understanding of the business of farming.
It is a combination of online and face to face learning, developed by the experts in farm business, for farm business owners and ag industry people.
At the end of this workshop you will:
Be upskilled in all aspects of farm business management

Understand your business and have clear strategies on where to focus your efforts to achieve future success, and

Be ready to take on the management and ownership of the family farm.
Who is it for?
Farmers of all ages and abilities. We built this with young to middle age farmers in mind, and we have found that it is suited to farmers of all ages and career stages.
We also run a tailored program for people who work in the agribusiness sector who are looking to gain a greater understanding of how farm businesses are managed.
Family members encouraged
We really encourage family members to do this program together where possible. Most Australian farms are family businesses and we believe that a critical element of success is having all members of the business working towards a common goal. Most of our graduates have been couples and families who have completed the program together. There's nothing like having everyone on the same page!
How it runs
You do most of the learning by watching videos on your computer or tablet at home supplemented with worksheets and a few webinars along the way and a face to face get together at the program conclusion. This is known as the 'flipped classroom' approach and it has proven very popular with our graduates who are spread far and wide, allowing time, travel and cost to be minimised.

The workshop runs for eight weeks with 20 video modules each of 10 to 20 minutes duration. There are optional worksheets to complete with each module and we run three webinars (group video conference Q & A session) during the program. We get together for a one day live event at the end in Perth or Esperance followed by dinner and refreshments.
Each group size (for the face-to-face meeting) is limited to 30 farm businesses.
When?
Kicking off on Monday 3 Feb 2020, just after school goes back. Q & A video conferences will be held at 8.30 am on 14 Feb, 28 Feb & 13 Mar. Esperance live event Wed 25 March. Perth live event Fri 27 March.
Note: If you can't make it for the first week or two that's no problem, you can catch up when you're ready to start.
Upcoming rounds
Spring 2020: 20 July to 11 September

Cost?
Price is $2249 (+GST). There will be an additional cost of $199 (+GST) if another family member such as your spouse or partner would like to attend to cover catering/attendance at the face-to-face meeting in Perth.
The Business of Farming is now open for enrollment.
Have a question to ask? Click here, share your contact details
and schedule a time for Peter Newman to call you
Workshop curriculum
The program has been developed by our Planfarm consultants in partnership with other experts who specialise in people development, tax and legal matters.
You will receive the exact information that you need, in the best possible format.
Our team have developed the program carefully, using their wealth of knowledge and experience to ensure that the most important aspects of the farm business are covered.
Not too much, not too little, just what matters most.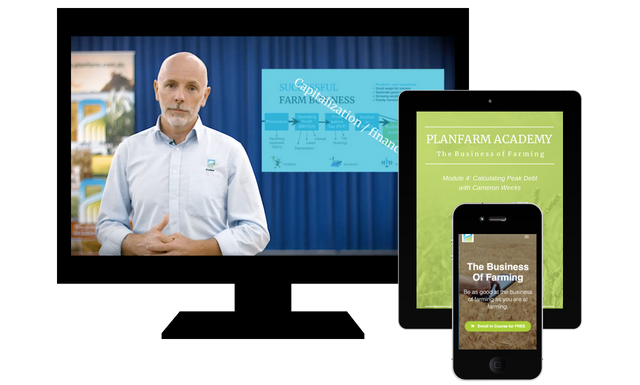 Curriculum
Module 1 with Peter Newman
Available in days
days after you enrol
Module 2 with Cameron Weeks
Available in days
days after you enrol
Module 3 with Cameron Weeks
Available in days
days after you enrol