The Business of Farming
Are you the future of farming?
The next Business of Farming course begins 27 July 2020.
The next Introduction to Agronomy course begins 3 Aug 2020. Click here for details.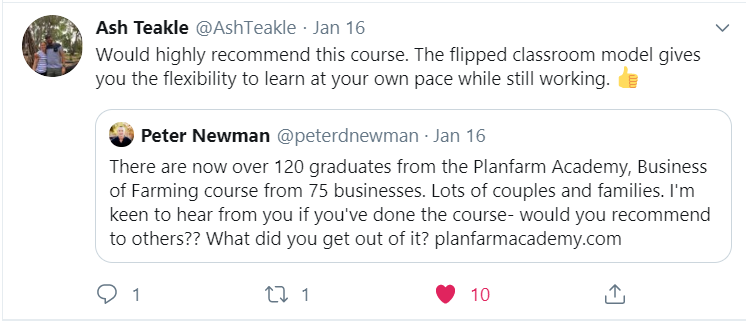 What is Planfarm Academy & Who is it for?

Planfarm Academy is one of the leading learning platforms in Australian agriculture, and allows families or individuals to create and achieve their vision for the future. Developed in Western Australia by Planfarm consultants along with other agri-business experts, and overseen by course coordinator, Peter Newman, the Business of Farming course is geared for families striving for business growth, sustainability and succession planning. This course accelerates and identifies the development of farm careers, helping you progress from worker, to manager, and eventually owner of the business.
What topics does the Business of Farming course cover?
Measuring business performance
Farm business management - Understanding profit, balance sheets, financing and cash flow
Managing farm machinery investment
Bank relationships and financing options
Investment for growth strategies
Grain and Livestock marketing
Developing a grain marketing strategy
Understanding the grain price
Livestock marketing
Accounting
Tax and farm business structures
People
People development
Succession Planning – people and legal aspects
Farmers and agribusiness have many opportunities to attend events focused on grain and livestock production but they have very limited opportunities to learn about the business of farming.
Why complete the Business of Farming course?
Gain a greater understanding of the business side of farming

Develop a vision with your family for the future of your business

Get all family members on the same page

Help the people in your business achieve their goals

Improve your knowledge of tax and farm business structures

Make a start at your succession plan
Who is it for?
Farmers of all ages and abilities. We built this with young to middle age farmers in mind, and we have found that it is suited to farmers of all ages and career stages.
We also run a tailored program for people who work in the agribusiness sector who are looking to gain a greater understanding of how farm businesses are managed.
Family members encouraged
We really encourage family members to do this program together where possible. Most Australian farms are family businesses and we believe that a critical element of success is having all members of the business working towards a common goal. Most of our graduates have been couples and families who have completed the program together. There's nothing like having everyone on the same page!
How it runs
The course runs over eight weeks with 20 on-line video modules along with worksheets to complete with most modules. There are three group video conferences during the course and we get together for a one day face to face event at the end in Perth or Esperance. These provide the opportunity for you to ask questions and dig deeper into the content. The time commitment is roughly two hours per week.

This is known as the 'flipped classroom' approach and it has proven very popular with our graduates who are spread far and wide, allowing time, travel and cost to be minimised.
Each group size (for the face-to-face meeting) is limited to 30 farm businesses.
When?
Starts Monday 27 July 2020 concluding with;
Perth face to face event Friday 18 September 2020

Q & A video conferences will be held at 8.30 am on 7 Aug, 21 Aug & 4 Sept.
Note: If you can't make it for the first week or two that's no problem, you can catch up when you're ready to start. The Q & A video conferences are recorded to watch later for those that can't make it on the day.
Upcoming rounds

Autumn 2021: 1 Feb to 26 March

Cost?
Price is $2249 (+GST). There will be an additional cost of $199 (+GST) if another family member such as your spouse or partner would like to attend to cover catering/attendance at the face-to-face meeting in Perth.
Our first three Business of Farming courses in 2018 & 2019 have been a big hit
Over 170 people from 112 farm businesses have graduated so far
Evaluation results
General satisfaction with the course 8.7/10
How likely are you to recommend to someone else 9.1/10
Value for money 8.3/10
Course curriculum
The program has been developed by our Planfarm consultants in partnership with other experts who specialise in people development, tax and legal matters.
Our team have developed the program carefully, using their wealth of knowledge and experience to ensure that the most important aspects of the farm business are covered.

Not too much, not too little, just what matters most.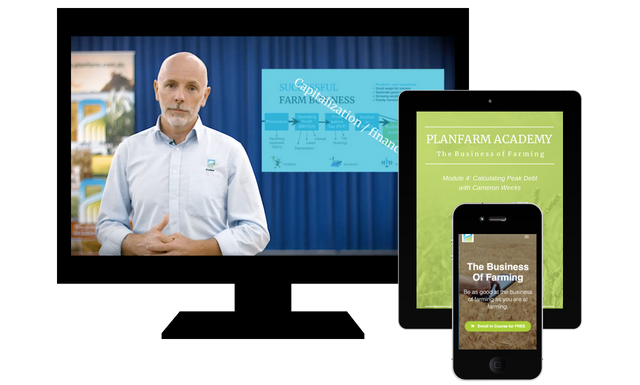 Curriculum
Module 1 with Peter Newman
Available in days
days after you enrol
Module 2 with Cameron Weeks
Available in days
days after you enrol
Module 3 with Cameron Weeks
Available in days
days after you enrol